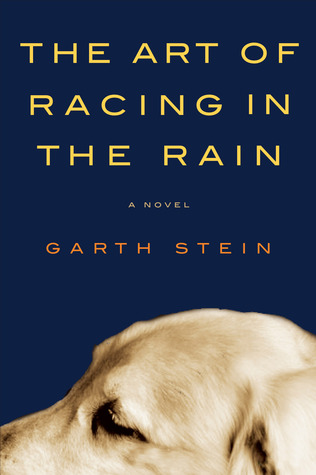 Location: The Warehouse Café, veggie café – very enjoyable
Category: Male authors
Chosen by: Rachael
Back in the first phase of the book club, Rachael nominated The Art of Racing in the Rain as one of her 5 choices. Back then, it didn't get pulled out of the hat. Four years later, she nominated it again—gotta love a trier! A novel narrated by a dog isn't our normal cup of tea, but hey, it graced the New York Times bestseller list for over 156 weeks, so someone certainly liked it!
Enzo the Labrador-part-terrier has human-like consciousness. In fact, he's convinced that his life as a dog is preparing himself for his next life as a human. Enzo's getting on a bit, so he's become fairly philosophical about his demise and narrates his life story through memories. Meanwhile, his owner Denny is in the midst of a life crisis, which Enzo intersperses with his memoirs.
As you might have guessed from the title, the novel heavily focuses on motor racing. Denny is a racing car driver, and Enzo—the avid TV watcher—loves racing. A true man-dog-best-friend combo, they watch races together and Denny explains the art of racing in the rain to his companion. Because Enzo isn't a dog, he's a friend. If you look deep enough into the racing sections, there's a metaphor for life in there somewhere…
So as you can probably guess, this novel is pretty unique. It goes without saying that if you don't like dogs or racing, you probably won't get much from this book. If you like both, you're on to a winner. If you like dogs, you can skip the racing parts—if you like racing, you can skip the doggy parts. As much of the Unconventional Book Club didn't like motor racing (those sections were described as "long and tedious"), most of them skimmed the racing aspects, but enjoyed Enzo's absolutely convincing voice—a dog who perceives our organised systems of human life so acutely. If you're expecting banal details of a dog's daily life, think more along the lines of acute insights of human life from a dog's perspective.
Overall, the novel elicited a wide variety of responses, from "over-sentimentalised" and "it came, it went; I shan't remember it" to "it had a great effect on me" and "was surprisingly brilliant". A few members had a little cry; it manages to be both heart-breaking and life-affirming if it takes you. The novel itself is a mixture of amusing anecdotes, laugh out loud parts, an innocent perspective, and the handling of serious, mature themes.
Despite the range of views that The Art of Racing in the Rain stimulated, we all agreed on one point…it does make you wonder. When you look at your pet, or a passing dog, or any animal—what are they thinking? Are they imagining doing laps in a racing car? Observing the society we've carefully built around ourselves? Or dreaming of becoming a human in their next life?
Score: 7