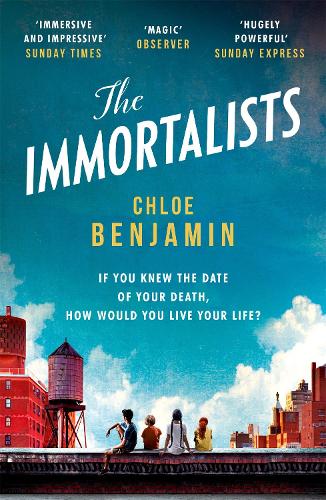 Location: Mowgli, Grand Central
Chosen by: Rachael
The cover of Chloe Benjamin's The Immortalists reads: "If you knew the date of your death, how would you live your life?" This is a question that many of us have considered at some point, and this interesting premise is largely what drew us to the book. We had interesting discussions about the notion, and voted on whether we'd like to know the date of our death or not. Only two of six of us present said yes.
In 1969, New York, four child siblings visit a travelling psychic who (separately) tells them the date they'll die. After that, the book is split into four distinct parts covering a large segment of each character's life. The first story is Simon's, the youngest sibling, who goes to San Francisco to explore his sexuality. Next is the wild Klara, who goes with Simon and becomes a magician/illusionist. The third story is about Daniel, a suspended army medic. The final story is that of the oldest girl Varya, who works in an animal research lab conducting tests on potential life extensions.
The four-story structure made certain parts of the book more enjoyable than others for us—with Simon's story being the most enjoyable and vivid, Klara's being interesting, Dan's story a little predictable, and Varya's being difficult to read. Likewise, while Simon and Klara are fairly likeable characters, Daniel and Varya are difficult to like.
According to the blurb, "the siblings must choose how to live with the prophecies the fortune-teller gave them that day. Will they accept, ignore, cheat or defy them?" While the notion of the book was thought-provoking and asked some questions about fate and how you live your life, the actual book didn't answer those questions, making the ending a bit of an anticlimax.
As such, The Immortalists wasn't really what we were expecting, being more of a family dynamic character story than an exploration of fate vs. choice, destiny vs. actions. It's not clear from the blurb that the book is literary fiction depicting four in-depth character stories and the complexities of sibling relationships, which is perhaps the fault of the marketers more than the author.
On the whole, we agreed that the book was fairly enjoyable, well-written, and an easy read, and it scored well. However, criticisms of the book were "it's okay but it's not going to set the world on fire" and "it's an interesting concept but the book itself wasn't really food for thought".
Score: 7/10
If you've read The Immortalists, feel free to score it out of 5 using the star rating above. Would you want to know the date you'll die?